The more I write on this blog, surf the internet, absorb media and talk to people, the more I realise that many people don't actually know what the hell feminism even is! Or will deny being feminist because of the way they perceive it.
There are plenty of people who don't even think it's necessary in 2015 New Zealand, or think that feminists are extremists. Some people even realise that gender equality is necessary but think that feminists are focusing on all the "wrong" issues and therefore it's not worthwhile.
To be honest, I can see why some people think that when you hear feminists described as crazy, fat, hairy-legged, ugly, lesbian bra-burners that hate men, can't get laid, think everything is rape, and want a matriarchy instead of a patriarchy.
OR if you compare the treatment of women in Auckland to those in Saudi Arabia and decide by that comparison that we're fine here.
And I think we're all sick of the word "manspreading", whether we think it's a thing or not.
I'll start by saying, there are extremists.
There are extremists in any political or religious systems. So what. That's no reason to condemn an entire movement.
I'll also say, there's nothing wrong with being a crazy, fat, ugly, hairy-legged, lesbian bra-burner. These ways of stereotyping the physicality of someone whose views someone doesn't believe is exactly the reason we need feminism.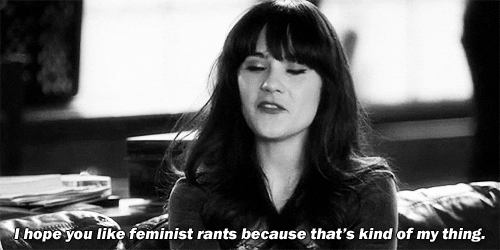 So what is feminism then, Charlie? And why do we need it?
Well, firstly, to preface this, no one sat me down and taught me "Feminism 101" (like I'm trying to do now haha). I found out about it through my own research. My research is unfinished and I still have books to read, people to talk to and history to delve in to really get the entire picture (it's a big picture).
I'm self-taught and learning constantly. I'm educating myself. Reading, listening, talking and trying to understand oppression, not just of women but all different ways people are discriminated against.
I'm realizing my own internal bias and problematic ways and trying to do what I can to be more like the person I WANT to be, not just the one I was programmed to be.
But I do absorb a lot of media, so I can tell you how it's described in Chimamanda Adichie's TED talk (sampled by Beyoncé in her song "Flawless")
A feminist is "a person who believes in the social, economic and political equality of the sexes"
It's dead simple.
Actually, it gets more complicated.
See, in my opinion, feminism isn't really feminism unless it's intersectional.
This is a little harder to describe so I'll do my best.
The textbook definition of intersectional feminism is "the view that women experience oppression in varying configurations and in varying degrees of intensity. Cultural patterns of oppression are not only interrelated, but are bound together and influenced by the intersectional systems of society. Examples of this include race, gender, class, ability and ethnicity."
It's basically the idea that most women are not ONLY experiencing gender-based oppression, they could be experiencing a myriad of oppressive systems all overlapping and giving them a much harder time than, say, a straight, white, cis-gendered woman.
So, for example, a woman of colour is not only experiencing sexism in her life, she is also experiencing racism. Therefore if we just succeed in gender equality, it's not yet time to go home as this lady is not yet equal to white women. We need racial equality to really get all women (and men) to the same level.
This is not the only level however, this is one simple example. There is sexism, racism, classism, ableism, cissexism, homophobia, fatphobia, and all other types of systemic oppression.
To understand how hard it can be, think; you're more likely to be sexually assaulted if you're a woman than a man, this likelihood goes up if you're a person of colour, this likelihood goes up if you're transgender, this likelihood goes up if you have a disability, and so on and so forth.
According to the Huffington Post in April this year, "Lesbian, gay, bisexual and transgender people continue to be killed because of who they are. A record 14 homicides of LGBT people have been reported so far in 2015, according to an open letter released Thursday by the Anti-Violence Project, an advocacy group that publishes an annual report on LGBT violence.
Half of the victims were transgender women of color, the AVP reported."
That's a ridiculously huge percentage considering the 2003 California LGBT Tobacco Survey found that only 1.9% of LGBT individuals identified as transgender women. That's not event taking into consideration the percentage of that who are non-white.
I hope that's mindblowing enough to realise there's an issue at hand.
Women, as a whole, are not truly equal to each other so that needs to be taken into consideration in the call for equality with men.
Otherwise, we're going to make the same mistake that feminists did in the past that ignored the issues of anyone that wasn't white while trying to create "equality". This is called "white feminism" and is still a problem, but I won't get into that.
Uhh yea… So feminism should be intersectional, and that is what intersectional feminism is.
If you can read between the lines, it should already be obvious that the feminists have a whoooooole lot of work to do since they're trying to solve all of the –isms that you can think of.
It's much more than us just trying to take away your god-given right to catcall any woman you see on the street. Sorry boys.
It's also, hopefully, pretty obvious that this pretty much benefits EVERYONE.
Men AND women. The only people who aren't necessarily seen as needing a helpful hand are the ones born into the glorious hands of all-out privilege.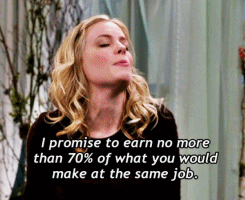 That damn word that all the MRAs hate. Privilege.
These extremely privileged people are basically able-bodied, straight, white, rich, cisgender men with "socially acceptable" bodies.
There are no socially-constructed oppressive systems holding these people down.
Privilege doesn't mean that life is easy and simple, it means that you have the upper hand in a society that is created to benefit a very specific type of person.
I'll use myself as an example.
I'm Charlie, I'm a well-educated, skinny, white (appearing), financially stable, mostly straight, cisgender woman with a chronic illness from a first world country.
That is a WHOLE LOT of privilege. If the only things that I have running against me within our rigged system is being a woman and being sick, that's not too bad really.
In saying that, the fact that I'm considerably more privileged than some in no way makes my life a sweet skip through the daisies.
Let's see…
I'm sick ALL the time, I've been sexually harassed so often I can't count, sexually assaulted hundreds of times, raped more than once, had an abusive partner, been robbed, been ridiculously poor, lived in what was pretty much squalour with no money, no food and glandular fever, been taken advantage of, owed thousands of dollars that I'll never see, cheated on, etc etc.
It's definitely not been an easy run.
HOWEVER, I'm still considered privileged in so many ways (even if that all sounds pretty shit).
My socially acceptable body has me paid on average more than a fat person, and I'll also be taken more seriously when I go to a doctor and am not harassed all the time for my body size.
My white appearance means I'm not profiled by police/shop owners/society and treated as more of a threat. I'm also likely to be paid more and raped less than a Maori woman.
My financial stability (and financially stable family) means that I had all the technology I needed to pursue my education, which was also expensive and would have been impossible otherwise. This education and technology benefits me in more ways than I can describe.
My mostly straight-ness, or the fact that I usually have male partners means I'm extremely low risk of being a victim of hate crime, homophobic harassment and workplace prejudice based on my sexuality. We also assume everyone is straight, so at least I appear to fit the socially acceptable profile while moving through life.
My gender identity matches my biological sex (i.e. I'm not transgender), this means that I'm at lower risk of homicide, suicide, rape, homelessness and unemployment. This also means I'm much less likely to resort to sex work. I can also use the ladies toilet in peace and never have people ask what's going on in my pants.
If that makes any sense at all, you can see that although I'm fairly privileged, I've still managed to have a bit of shit life haha.
Privilege does not equal "awesome life", privilege equals "systemic bias in your favour".
It also doesn't mean that all the able-bodied, straight, white, rich, cisgender men are going to grow up to be the douche-bag CEOs that run our country. It just means they have a much, much, MUCH higher chance of being a douche-bag CEO that runs our country than, say, a disabled, gay, Maori, transwoman.
And not because they work harder or they deserve it more.
No, it's because most facets of the way our country is run and our societal norms means that the ways we move through life gives certain people the fast track and everyone else scenic paths of different lengths.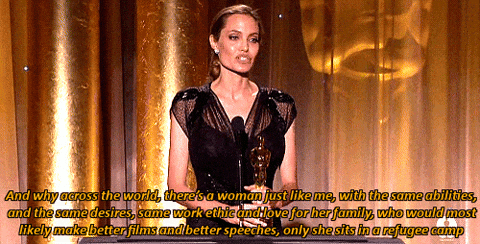 Phew. That's a lot of information.
Hopefully that's a quick basis for your Feminism 101 lesson.
I'll also note that feminism actually does benefit men.
As a bit of twist, some of the oppressive ideologies against certain people have actually negatively affected privileged parties.
For example, women are seen as overly-emotional girls who need to be protected, and men as the strong, emotionless protector. This makes it harder for men to outwardly show any 'vulnerable' emotions, like crying, and if they do, they'll be told to "man up"/"stop being such a girl"/"don't be a pussy" (i.e. stop being like a woman – that's a negative thing).
It's believed that this means a lot of boys and men repress some strong emotions and feelings and they feel unable to talk about it. Because of this they might feel they need to resort to suicide as an escape. This explains the huge discrepancy in suicide rates between men and women.
Funnily enough, feminism, where it pushes for women to be seen as strong equals would benefit men in the way that what is seen as typically "feminine" emotions would no longer be seen as a negative thing, meaning men would be able to express themselves more without social repercussions. (Take this moment to stop using "girl", "woman" and "pussy" as a negative word – it's the first step.)
So, to wrap it up…
Feminism is about the social, economic and political equality of the sexes.
Feminism should be intersectional.
Intersectional feminism is about how sexism intersects with other types of oppression – racism, classism, ableism, cissexism, homophobia, fatphobia, et al – and the social, economic and political equality for all of the above.
Privilege is systemic bias in your favour. Oppression is systemic bias working against you.
Feminism wants to erase oppression so everyone is privileged, and therefore equal.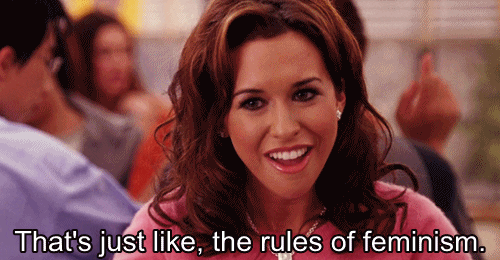 See! We ain't so bad!*
🙂
*Unless you're an able-bodied, straight, white, rich, cisgender men with a "socially acceptable" body and want the fast-track all to yourself…
If you wanna learn more, or know some good people to follow who know MUCH more than me, here are some of my faves <3
101:

Facebook:

Instagram

TED Talks

Movies
Go and watch Magic Mike. You totally can – it's feminist too! That was my excuse anyway (nothing like watching a bunch of guys focusing on women's pleasure for a couple of hours) 😀