At any given time, if you scanned through my Spotify saved songs you'll find at least one song about lady pleasure.
Even better, they're sung by women and usually about themselves.
It's no new information to say that in general, we're inundated with songs about male pleasure and women giving men what they want/need/deserve. And not all of these songs are by men, there are plenty of women who sing about the submissive role they (or other 'sluts') play in giving a man what he wants.
Sometimes it's not even about "giving", sometimes there are men who are even crass enough to sing about "taking" what they deserve. Or those damned "blurred lines".
And most of that shit is catchy as all hell! Ugh.
My own playlists, the charts and my radio station are all full of objectifying, double-standard-y, rapey, stalkery and violent songs (or videos) about women.
I listen to problematic media way more often than I like to admit. But when it's got a good beat sometimes it's hard not to dance along.
The way that I deal with it is try to realise that it's terrible while I boogie to it, then try balance it out by listening to some sexy business about a lady getting what she wants.
Now that's the goods.
Earlier this year, I was playing a game with friends where someone chose a theme, then everyone played a song in that theme. The person with the best song chose the next theme (or something like that).
When it came to my turn to choose a theme, I chose "songs about woman's sexuality". This was immediately misunderstood as "songs about the passive roles women play in sex for the dominating male", which is every song ever, and binned. They replaced my theme with funeral songs(!) – seriously.
I was not talking about women having sex done to them, or doing sex to a man. I was talking about female pleasure – something that is much harder to find in a song.
So now is my moment to shine!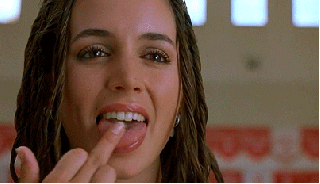 And here is the list of songs I had in my head to play for that theme.
Enjoy.
---
12 Songs About Lady-Lovin'

1. "Blow" by Beyoncé
I will obviously start with my gurl Bey cos her last album was pretty sexy and obviously she went for the goods in it.
"Can you eat my skittles
It's the sweetest in the middle, yea
Pink, that's the flavor
Solve the riddle"
2. "Pu$$y" by Iggy Azalea
This has to be a record number of times the word "pussy" has been said in such a short space of time. And with some handy tips thrown in as well, it obviously makes the list.
"Bad Boys get a mouth full of pu$$y aka Listerine
Here to make you lose your mind
Gonna need a Sherlock Holmes
To solve your mystery, I'm nasty
Baby what you thinking? Aka Titanic
So much wet will have yo ass sinking"
3. "Gimme head" by Shystie
Honestly, I have no idea who this is (I think I stumbled on this on Spotify). Her lyrics are a little brutal but I enjoy hearing a woman sing like this when I'm used to the opposite. Extra points for talking about her 'rabbit' and safe sex.
"If you wana be my favourite
You better get down low, put your face in this
Gimme head, gimme head, gimme head
Hey boy, what's your flavour?
Wanna come and taste what I'm made from?
That your girlfriend? That could never be
Where you find her? She's too dusty"
4. "Bang Me Box" by Miley Cyrus
If you didn't hear, recently Miley released a free song about lesbian sex. I mean… It's called Bang Me Box… Need I say more.
"Want to lick it so much that it's almost like I taste it on the tip of my tongue
I want to touch it so bad that it's almost like I can feel it on my fingertips
I want yours inside of me, but don't forget where I like licking babe
I want to make your fantasies realities, I want to be yours babe"
5. "Get On Your Knees" by Nicki Minaj feat. Ariana Grande
I honestly hadn't heard this until the time of writing, but it made the list very quickly! Sexual agency ftw.
"I don't need a dozen roses
You ain't gotta wine and dine me, no
I don't need a pretty poet
Ooh, gettin' all emotional
You gotta beg for it, beg for it
I wanna see you lookin' up
Baby, I'ma need you to beg for it"
6. "212" by Azealia Banks
Somewhat like Iggy's record above, I'm awarding Azealia a prize for dropping the c-bomb this many times in a song with a face as adorable as hers.
"Kick it with the bitch who comes from Parisian
She know where I get mine from and the season
Now she wanna lick my plum in the evenin'
And fit that tongue tongue d-deep in"
 7. "Work It" by Missy Elliott
It would barely be a sexy list without some throwbacks of the best!
"Phone before you come, I need to shave my chocha
You do or you don't or you will or won't ya
Go downtown and eat it like a vulture"
8. "My Neck My Back (Lick It)" by Khia
This song *ahem* sounds a little different than it did on the radio when I was 15… Oh so graphic.
"First you gotta put your neck into it
Don't stop, just do, do it
Then you roll your tongue, from the crack back to the front"
And a couple of less cunni-linguistic, but still badass sexual lady-songs…
9. "I Touch Myself" by the Divinyls
I've loved this song about 'self-love' since I heard it on Austin Powers. Just so great.
"I love myself, I want you to love me
When I feel down, I want you above me
I search myself, I want you to find me
I forget myself, I want you to remind me
I don't want anybody else
When I think about you, I touch myself
Ooh, I don't want anybody else
Oh no, oh no, oh no"
10. "Short Dick Man" By 20 Fingers
Also an important song from my teens.
"What in the world is that thing?
Do you need some tweezers to put that thing away?"
11. "Flower" by Liz Phair
Yes, Liz Phair, of "Why Can't I" fame changed a bit. This is not about getting love, or self-love, it's about lusting after someone and, er, how that makes her feel…
"Every time I see your face
I get all wet between my legs
Every time you pass me by
I heave a sigh of pain"
12. "Give You What You Like" by Avril Lavigne
Yea, I hear the name of the song, but it's a song that stands out to me because it's about having casual sex to combat loneliness. I love it.
"Please tell me I'm your one and only
Or lie, and say at least tonight
I've got a brand new cure for lonely
And if you give me what I want
Then I'll give you what you like"
---
I hope you enjoyed this list! Let me know if you've got any goodies I should be adding to my playlist!
(Also, please don't pull my headphones out if I'm listening to music – you have no idea what might be playing…)