I've recently rejoined the masses of singles in Auckland city and have quite quickly been reminded of just how complicated it is to navigate around. Especially as a "strong, independent woman".
I'm getting flashbacks of all my failed dates, potential lovers, Tinder weirdos, ex-boyfriends, and unrequited crushes and being reminded particularly strongly of just how much of a strong, independent woman I really, really am NOT!
I feel like a walking paradox.
I talk the talk, and I believe everything I say, but walking the walk is a completely different story altogether. Because, let's be honest, I'm a "good girl". I've been one for years.
I've always been a pretty awesome good girl too. I'd be quiet, I'd listen, and I'd do anything anyone asked of me. I wouldn't rock the boat, I'd let people get their way, I'd accommodate for anyone and everyone.
I'd always say "yes", I wouldn't speak out of turn, I'd allow anyone to talk over me and bow to their opinion if they seemed to want me to. I'd put literally everyone else's feeling first and be modest and compliant, most of the time at least.
I say things like "I totally understand what you mean, but just maybe I kinda sorta feel like that's not quite it" and "well, I'm really busy today but I'm sure I could do that" and "if that's what you think, we can just go with that".
These things do not a strong, independent woman make.
A strong, independent woman trusts her instinct and will assert herself. She'll stand her ground if she knows she's right, even if it means that someone might think she's a bitch or selfish. She'll do anything for people who deserve her time, if she has the time. She knows that looking out for number one is not a bad thing. She'll speak up when people aren't listening, and she'll speak up for other people if they need it.
Being a girl/woman is a paradox in the first place
You're expected to be a good girl and not shake anything up if you can help it, but if it doesn't work in your favour, it's your own fault for being too nice.
I have been told way too many times that some of the bad things that have happened to me were a direct result of my lack of assertiveness.
When I was the only woman in my door knocking job and (more regularly than you'd like to think) men would follow me down the road, yell at me to go into their house, or lock me in their home and try to kiss me, I tried to tell my boss I was scared and felt unsafe. He told me that I had the wrong attitude. It's because I was too nice, not professional enough, and not assertive enough.
(It's definitely not the fault of the men who thought that a woman on her own was an invitation for harassment, and definitely not my boss' responsibility to look out for the different needs of people on his team…)
So I believed him and went to the library and got out books like "Nice Girls Don't Get The Corner Office" and read up on what I could do to be taken seriously and, like, not get raped while working.
Looking back, this breaks my heart.
I spent 25 years being conditioned, and growing and accommodating to be the perfect little lady, then when something bad happens, it becomes my fault for being that nice person that everyone so badly wanted me to be. So I was trying to unlearn a lifetime of being good, to become the strong woman that people won't harass or assault, and might take seriously as I move up the ranks and become their boss (as if being more independent negates misogyny, lolz).
Firstly, I'll say that traditional gender roles can go fuck themselves.
And secondly, I'm trying to say that I feel that this same problem is haunting me in so many different aspects of my life. Namely, in this case, dating.
I'm clearly strong and independent and I'm much tougher than the girl I once was, but there are certain aspects of my dating life that are not proof of that.
Sexy times
Reading any sort of modern woman publications, we'd be lead to believe that in this age of modern dating with gender equality balancing things out a bit more, all women should be going out and getting them some sexy time, when and where they want it. Because the modern woman is a career woman who don't need no husband and probably doesn't want kids till she's 40. So she exerts this fairly new right to have casual sex, the same way men do, with no repercussions.
But that just isn't true. Firstly, a woman can want to be a stay-at-home mother, or a working mum, or unmarried, or have no children, or be single and do her own thang. The point is that she should be able to have the choice.
Next, as much as we like to pretend that casual dating and sex is equal now, it really isn't.
It seems like as soon as we "allowed" women to have sex the same way the guys do, they changed the game. We might not be viewed as "sluts" in the same way that would have been common even 5 years ago, and Tinder has opened a lot of doors for people to quietly and conveniently "tap and gap" each other, but the playing field doesn't feel quite even.
From the way I've seen guys use Tinder, and from the things I've read, it's like some of these idiots are turning it into some kind of game, with women as the pawns. It's like they use it to rack up their numbers in a competitive show of their manly prowess. And the girls are just the numbers that they tell their friends about (news flash, I know).
If women use it like this – as a competition – they do it much more subtly, because I don't think I've heard of any of my friends bragging about fucking a different guy each day of the week.
That's what it feels like to me, it's like as a society we'll let women be sexual, but not without men abusing it for their own testosterone-fueled game.
Similarly with people out on the prowl, the methods that some of my male friends use seem, and sound, much more predatory that my female friends.
Like, girls I know might say that they want to get laid and go out on the prowl, but it's the guys who say things to me like "me and my friend were out all night, we'd pick up girls, then see hotter girls, and you have to 'trade up', and keep doing that all night till you have the hottest girl" (yup, women are basically Pokemon cards "Gotta catch'em all!"). Or, "I have to go out and find a drunk chick. No one else would want to sleep with me" – which I understand is a self-deprecating comment, but it is predatory as fuck and totally not ok.
Why can't you just let us be equal? Can we not just be treated with some basic respect as human beings with human feelings? Not a notch for your bedpost, and not a description for your "Bois" group chat, just a human who wants to have sex with another human. You know, the same way that you want to have sex with another human, and how you're a human yourself?
I don't want to be a point in your shitty competition, but I don't want to date you either (because your personality just isn't that great), so what do I do? Just avoid altogether?
I genuinely don't know.
But say the Tinder chat does go well, or we're chatting at a bar and the fireworks hit. After the "your place or mine?" talk happens and we get there and it starts to get heated. What happens next?
Well, talk to most straight woman and they'll tell you what happens next, most of the time.
Not much.
Kristen Wiig knows…
Some guy, a couple of beers deep, jackhammers the woman, pulls an awkward face, then rolls over and passes out. And that's where it ends, because we all know that sex ends when the man is finished, and if the lady finishes before that, well, she's probably just lucky.
Or a witch.
She might have had fun, but she probably hasn't had a much fun as god's gift to women who was selling himself to her a couple of hours earlier.
And why is that?
I think that all single women should start a movement where you say "if it doesn't happen for me, I'm not going to help it happen for you. And if you really have no interest in my good time, then GTFO".
The sooner men realise that their pleasure depends on yours, the sooner they'll up their game. Then we can talk about this equal playing field.
But it's not as easy as it sounds. This requires a vocal woman who feels able to stand her ground, and not give in to that feeling like she's asking too much. She has to realise that looking out for number one is not selfish (especially when the other person is most definitely looking out for numero uno), and know that she doesn't have to feel like she needs to accommodate for other people's needs before her own all the time.
I know I'm not that person – I may appear so outwardly, in conversation and with friends, but one-on-one it gets really hard when I feel like I'm being selfish.
But this is important! We will NOT be equal until we're treated as important as men in all aspects of life, and until we expect to, and realise that we deserve to, get these same benefits.
Why on earth would anyone think that it's normal and expected that an equal act would have unequal outcomes? Even monkeys think it's bullshit to get paid with a cucumber when another is getting paid with grapes!
Up your game boys.
Dating
I'm a strong, independent woman who don't need no man. So am I supposed to want to date?
Sure, why not. So, say I decide I want to date and get swiping on Tinder (it's what the kids are doing these days).
I get sent stupidly sexual messages by strangers and don't know how to respond. I go on dates with guys who just aren't quite right, and don't know how to escape. I have some guy insisting on me going to his house without meeting him first in a place that I feel comfortable.
I have guys commenting on my looks, or ethnicity, or telling me the things they want to do to me, or describing their appendages to me when I DIDN'T ASK.
I. Did. Not. Ask!
Ugh.
The worst part of all of this, is that I don't know what to say to these people.
With this horrible feeling of not wanting to be too mean, or not wanting to make a situation worse, or just wanting to leave a situation but not wanting to let someone down, I so often just go quiet and don't say anything. (Unless they're jerky enough for me to mess with a little – that's fun though.)
I hate this part of my personality so much!
Don't get me wrong, I can get rid of the proper full-on douches, and I've never done anything that I REALLY didn't want to do in the context of dating just because I couldn't speak up. But I have literally no idea how to tell a half decent guy that, "I know you thought I was going to come back to yours tonight, but I don't want to because you're not that great." Or, "our date was quite good, and you seem like a nice person, but I don't see it going anywhere and don't want to waste either of our time." Or, "you used "gay" as a derogatory adjective and my ovaries shriveled up."
Those words just don't seem to come out, as hard as I try push them out.
I'm actually quite sure that all of my frustratingly "good girl" personality traits are surprising to people who have come to assume that I think that it's easy to be that awesome, tough "strong, independent woman".
It's most definitely not. I'm taking a lifetime of behavior modifications, and sculpting to become a certain type of girl, and trying to undo it all.
Take how hard it is to change one word in your vocab (like my friend from above) and instead of saying "gay" to mean crap, just say "crap" instead, consistently.
Then extend that so instead of lying and saying (what I said quite recently) "I'm so sorry but I'm just feeling really tired, I should really just head home, I have work in the morning" (then avoiding texts afterwards), being honest and saying "thanks for a nice night, but I'm not attracted to you like that, so I'm going to save us both time and head off home now. It was nice to meet you and all the best."
It doesn't sound hard, so why is it?!
Because being a strong, independent woman is not as easy as it's made out to be.
On paper, it's great.
I read about what it is to be an awesomely feminist woman, I listen to podcasts by badass women, I watch TV shows and movies with characters that digress from the mainstream good girl, sex object. There are quotes in my Instagram feed, and edgy women being amazing in my Facebook newsfeed. I watch TED talks about equality, I talk to amazing friends and swap experiences and ideas.
But it's not that easy.
Because it's a lifetime of change I'm trying to undo and each one makes me squirm uncomfortably thinking about the other person's potential reaction.
One thing for sure is men need to sort out their attitudes – it'd help me very muchly.
Here's a few pointers for the fellas:
Take "no" to mean "no". Not a start of a negotiation, not a "maybe", not a "yes in 10 minutes". A "no".
Deal with rejection better. Sure, in our stupid society you're still often expected to be the pursuer, but you could make it easier to be pursued as a woman. I'd love to put my fake boyfriend to rest when it's no longer literally the only way you'll take my rejection seriously.

No dick pics (unless requested (is anyone requesting?)) and no unsolicited sexual bullshit – especially within the first 3 Tinder messages, seriously?!

No more boys competitions and games. Just have sex because you want to have sex, not because you're abusing this new system where women are more liberal in order to "win" at having a penis.
Stop judging women solely on their looks. If you expect me to look like a model, I expect you to speak to me like John Oliver (and you never will, so stop being so shallow).
Understand women are dating you in a society where men are genuine threats to women. I know, I know – #notallmen. The fact that it's not all men doesn't stop my harassment, abuse and rape so get over it and just be understanding that dating isn't quite as straightforward for women.
Let me pay sometimes. Please. I have money to buy nice things with and I'm capable of spending it.
Don't use "gay" as a derogatory adjective. That's just a life lesson.
And kids, use condoms. Don't be gross.
Meanwhile I'll try to say what I actually want to say, I'll try not let creepy comments slide, I'll try stop making up fake boyfriends and I'll try to start charging grapes when I'm paying in grapes.
This ain't easy! Not for me anyway.
Any advice on how I can actually pull off this personality change is much appreciated.
Meanwhile, I'll be over here with my true life partner.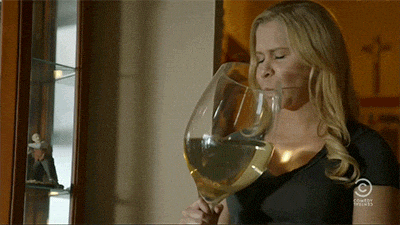 xxx
Ooh here's some fun extra-curricular reading
This is what it looks like when women try date